Projects
Back
2016 Schuylkill Street Art Contest
Mon Dec 28, 2015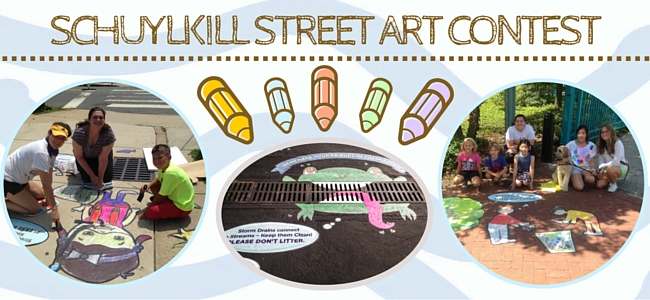 Congratulations to the winners! You can view the winners and notable entries here.
---
What is the contest?
Students create a drawing that shows how we can help make the environment cleaner. The winners drawings will be transformed into street art surrounding a storm drain. These drawings will help educate people about the connection of storm drains to streams and what they can do to make our environment cleaner.
---
Who can enter?
Any student grades 6-12 who attends public, private, or home school within Berks, Chester, Montgomery, and Schuylkill Counties can participate in the Schuylkill Street Art Contest.
---
How do you enter?
1. Download the brochure for the complete contest rules, requirements, and official entry form.
2. Create an ORIGINAL drawing, incorporating a storm drain in your artwork, showing how we can all make the environment cleaner.
3. Submit your ORIGINAL drawing with the official entry form (found on brochure) to:
Partnership for the Delaware Estuary
110 S. Poplar Street, Suite 202
Wilmington, DE 19801
By Friday, March 11, 2016**
**note: deadline had been extended from February 29 to March 11
---
Requirements
-Each entry MUST have a copy of the Official 2016 Schuhylkill Street Art Contest Form (found on brochure) filled out legibly and entirely. Tape or glue the form to the back of your drawing - no staples please.
-Artwork MUST be HORIZONTAL on an 8.5 x 11 inche sheet of WHITE paper with no lamination or protruding parts.
-Entries must be mailed no later than Friday, March 11, 2016.
---
Winners
There will be a 1st, 2nd, and 3rd place winner for each of the four counties: Berks, Chester, Montogmery, and Schuylkill Counties.
-1st place winner: artwork transformed into street art and a pizza party for the winner's class.
-2nd place winner: framed artwork in school and a pizza party for the winner's class.
-3rd place winner: pizza party for the winner's class.
---
Questions?
Contact Virginia Vassalotti at VVassalotti@DelawareEstuary.org or 302-655-4990 ext. 121

Galleries
Date: Feb, 18, 2016

2016 Schuylkill Street Art Contest
Status Updates